H
Our history
For over 150 years, the Maison Soubrier, located in the heart of the Faubourg Saint Antoine, has followed a passion for beautiful furniture and decorative objects.
Dedicated to furnishings and decoration up to the 1940s, the company was renowned as much for its furniture as for its sample interiors elegantly displayed at 14 rue de Reuilly in a series of bedrooms, sitting rooms, boudoirs and dining rooms. The Maison offered custom-made furniture crafted according to period designs or else following contemporary tastes for prestigious interiors such as the Ritz.
In the 1960s, the Maison took an entirely new direction, establishing an original collection of furniture and objects from all eras destined for rental. This enterprise, which principally serves film sets, continues today with passion and success.
G
Our activity
The Maison Soubrier places its collection of furniture, rare objects, paintings and decorative pieces at the disposition of a clientele with trained eyes and refined taste: set designers for film or theatre, interior designers, stylists, event organizers, photographers, etc…
We are committed to enriching our collection by searching for the most unexpected pieces which seize the eye while contributing to a distinctive atmosphere.
We retain our own workshop where we restore our numerous acquisitions and preserve our own collections in perfect condition.
I
Our clients
FILM, THEATRE AND TELEVISION:
French and foreign productions. Films, series, short films and plays.
LUXURY:
Our customers include prestigious brands of haute couture and jewelry, fashion and fine leather goods, perfumes and cosmetics.
Interior design and decoration for shop windows and showrooms, photo shoots and commercials.
EVENTS:
Institutional or private. Weddings, soirées, dinners, openings, expositions.
But also, run-ways of Fashion Week and launch events for new products and collections.
J
Management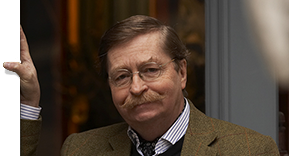 Louis Soubrier is heir to 6 generations of family traditions. In keeping with this legacy, he works tirelessly to search out fine furniture and objects. These pieces, by their originality, captivate him and his customers alike.
Combining knowledge of the trade and of the Faubourg's artisans, he is also an expert in restoration.